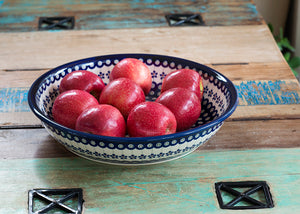 Being a part of someone's wedding is always special. The fact that the couple wanted you to witness and celebrate the most important day of their lives is an honour for you as a wedding guest. So the wedding gift you give them should be equally special.
So we have compiled a few wedding gift ideas that you may consider.
If you love ceramics then you know that Polish ceramics are amongst the best in the world. These blue and white ceramics have been known and loved all over the world for many years.
Tzeramika brings you the most authentic Bolesławiec ceramics right at your doorstep here in Australia. Bolesławiec is the main town where this unique pottery is produced. Although its history dates back to 700 years ago, it became popular globally only in the nineteenth century. The uniqueness of these ceramics is due to the fact that they are all handmade and hand-painted making the Bolesławiec products extra special.